A couple of weeks after the Armory concert, Carrie Newcomer played a solo gig in Lafayette, Indiana. The date was 31 May 1991 and the sound system was very nice.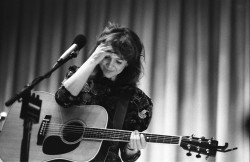 Photo: Whittemore
Carrie's first album - Visions and Dreams was just out and sported a photograph that I had taken during a photoshoot in the Purdue University Union earlier in the year.
Carrie is a very charismatic and capable performer.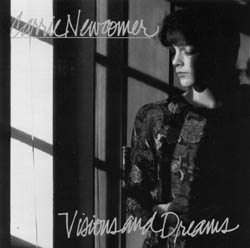 The Full Concert (updated: 2020-05-31)
Sat May 30 16:50:03 PDT 2020
Small world
jfish-at-triplefstudio.com - Jonathan, Nagoya, Japan
8Feb2009 3:17 AM (14 years 231 days ago)

I was searching the web for a reference to the nude olympics at Purdue to contrast to the Naked man festival here in Aichi-ken, Japan and stumbled across photos of my good friend and kindergarten classmate Robert Meitus. I enjoyed the stroll down memory lane. If you find any old recordings of the predecessor to East of Eden (The Sound), listen for the rock and roll trumpet in the mix. That's me.

I hope you don't mind the link to your nude olympics photo at www.triplefstudio.com/yokoso

very nice recordings...
Timothy Stockman - Philadelphia, PA, USofA
4Sep2005 1:54 PM (18 years 23 days ago)

Hi,

It's really great treat to hear Carrie's music. I have a special fondness for music from the era of these recordings; I spent a few years before this mixing the sound at most Carrie's live shows. Over the years, I had the chance to work with Robert and his Dorketra, The Icemakers and many other area musicians. Wonderful memories, indeed.

Timothy Stockman
tps-at-mail.fielddiagnostics.com

Thanks for the recordings!
jase-at-dufair.org - Jason Dufair
11Nov2004 2:00 PM (18 years 320 days ago)

Thanks for making these recordings available! I was the sound engineer for many Icemakers shows and friends with them and Carrie and Robert. I appreciate you posting these. I'm hopefully going to put some old Icemakers recordings on my website (http://www.dufair.org/) in the next 2 months or so.